---
The company has a complete quality management system. At present, the company has passed ISO9001:2008 quality management system, ISO14001:2004 environmental management system, OHSAS18001 occupational health and safety management system, IATF16949:2016 international general automobile industry quality system standard.
Huiqiang new material Wang Hongbing: entrepreneurial innovation to create China's film brand
---
China Battery Magazine-China Battery Network December 6 (Chen Yu Zhang Qian reported in Changsha, Hunan) The confidence of entrepreneurs is the confidence of the Chinese economy.
Due to the slowdown in the growth rate of new energy vehicle production and sales, coupled with lower-than-expected policy landing time, the consumer market has insufficient confidence in the development of electric vehicles, but industry entrepreneurs are still full of confidence in the new energy industry.
Huiqiang New Energy Chairman Wang Hongbing accepted an interview with China Battery Network
"The new energy power battery lithium battery industry is in a rising stage, and the overall trend is definitely to develop in a benign way." Wang Hongbing, chairman of Wuhan Huiqiang New Energy Material Technology Co., Ltd. (hereinafter referred to as "Huiqiang New Material"), is confident in the development prospects of the industry. .
"I am very honored to be able to cooperate with Mr. Hui's general manager. He is a man who is brave enough to face difficulties. He has full confidence in making high-quality lithium battery separators. He dreams that Huiqiang can become the most in China and the world. A good manufacturer of lithium battery separators. Based on my manufacturing experience in the past 30 years, I will do my best to help Huiqiang realize this dream as soon as possible." Recently, at the 4th Lithium Battery "Davos" Forum, American Hemp The senior film expert of Huigong University and Huiqiang new material technology consultant Mark praised Wang Hongbing, the chairman of Huiqiang New Material.
Transformation: from traditional plastic packaging film to lithium battery separator
In 1992, after Comrade Deng Xiaoping's speech in the southern tour, Wang Hongbing gave up a relatively promising position among the large state-owned enterprises in the mainland. South Guangdong entered a plastic film packaging enterprise, and a small staff member became the CEO. After 16 years of tempering, Wang Hongbing has made the "Huiqiang" plastic film packaging brand the first in China and the first in Asia, and has become a well-known "plastic film king" in the industry.
When the traditional business reached its peak, Wang Hongbing turned his attention to new energy and wanted to build another industry first.
Six years ago, although the number of Chinese film companies far exceeded the sum of other countries and regions in the world, the Material products of a large number of film companies gathered in the low-end market, and the vicious competition in the industry became increasingly fierce. In the middle and high-end Material market for 3C small batteries, the price of film Material is rapidly declining, and the average unit price is less than 9 yuan/m2. In the field of power battery separators, the overall technical level of domestic film is low.
Wang Hongbing reviewed the situation and led the cooperation with Huiqiang and the top domestic scientific research institutions. In 2011 and 2012, he successively invested in the establishment of two lithium-ion battery separator production bases in Henan and Wuhan, and the three-layer co-extruded power battery separator was filled. The gap in China's high-tech projects has broken the monopoly of foreign technology.
Dream: Be the best film to create a Chinese film brand
"When I was very young, I had a dream. I dreamed of having a car. In 2010, I expected the new energy vehicle to be the future direction. I learned that the power battery is the 'heart' of the new energy vehicle, and its heart. 'The core component --- film, is also a polymer material, which evokes my car dream." Wang Hongbing said, "At the time, China's high-end film was long monopolized by the United States, Japan and South Korea to create a high-quality domestic film. It is a matter of long-term national ethics to replace imports. As a result, my dream has changed from a car dream to a plastic dream into a film dream."
Today, Wang Hongbing's dream is to become the first brand of China's film, so that the battery separators used in new energy vehicles around the world are made in China.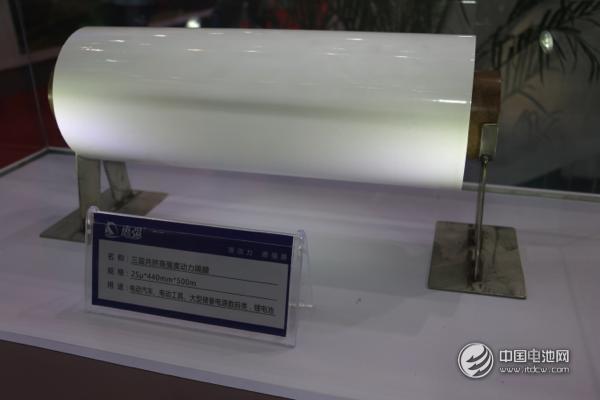 Huiqiang new material product display
Six years ago, when Wang Hongbing began to lay out the lithium battery separator business, China's power battery separator was basically 100% dependent on imports. "After six years, according to my personal estimation, 50% of the high-end film has been localized." Wang Hongbing said, "Why are there 50% of imports? First, some film companies, technology can't keep up. Second, The inherent thinking of the consumer market is that imported products are good. In fact, in the past two years, the technology of domestic film has made rapid progress, and some film brands are not bad. In general, to accelerate the localization of high-end film, we must reduce technology as soon as possible. The gap is to reverse the consumer market concept."
It is reported that under the leadership of Wang Hongbing, the two lithium battery separator production bases, the current annual production capacity of power battery separators is 80 million m2, and the production capacity will reach 300 million m2 by 2018.
Among them, Henan Huiqiang New Energy Material Technology Corp., Ltd. relies on the professors and experts of the Chinese Academy of Sciences as a strong technical support to develop a dry process with complete independent intellectual property rights. It is the only one capable of producing PP and PE at the same time. A variety of Material, companies can produce 10μm to 60μm single-layer, composite lithium battery separators according to customer needs. The company has landed on the New Third Board on March 15, 2016.
Wuhan Base – Wuhan Huiqiang New Energy Material Technology Co., Ltd. cooperates with top R&D institutions and well-known experts at home and abroad to develop high-quality film R&D and manufacturing of lithium-ion batteries, and has made major breakthroughs in its industrialization. On January 27, 2015, the first volume of three-layer co-extrusion dry single-lithium lithium ion high-end separator was successfully manufactured in China, which filled the gap of the domestic high-end lithium-ion battery separator. Its technical index is compared with single-layer film. Great superiority and competitive price have broken the monopoly position of similar foreign products in the Chinese market.
Huiqiang New Material disclosed in the 2016 semi-annual report that the company's film products entered the stage of mass production, gradually getting rid of the loss situation and entering a state of continuous profitability. As of June 30, 2016, the sales income was 40.20 million yuan and the net profit was 11.38 million yuan. At present, the customers of Huiqiang New Material Co., Ltd. have changed from low-end distributors to mid-end 3C customers and high-end power battery customers. The company's power film products have entered the domestic well-known new energy vehicle manufacturers BYD, Camel, Zhongju supply chain, and become one of its major suppliers. Now it supplies 3 million square meters to BYD every month. It is expected to achieve sales revenue for the whole year. 100 million yuan, profits and taxes of more than 30 million yuan, the production of enterprises is in short supply, the development of enterprises has entered a stage of full speed improvement.
Wang Hongbing revealed that in the second half of the year, the company expects to invest a total of 500 million yuan to implement the second phase of the project, achieving an annual output of 200 million square meters of lithium battery separator, laying a solid foundation for the world's best film supplier.
Demeanor: Innovative and progressive, stick to faith, legal model
The outstanding achievements of Huiqiang New Material cannot be separated from the correct guidance of Wang Hongbing. Wang Hongbing understands management and good management, and has a stable, efficient, honest, diligent and pragmatic style of work. He has long held senior management positions in large enterprises, and has extensive experience in corporate management, mature procurement and sales network layout strategies, and extensive on-site management experience.
"Entrepreneurial innovation, sincerity and perfection, I want to be a good boss with a sense of initiative and innovation." Wang Hongbing said that his goal is to make the company a first-class staff, first-class work environment, first-class salary. Industry flagship for treatment, first-class management, and first-class product quality.
In the traditional industry, Wang Hongbing, chairman of the board of Henan Huiqiang Plastic Industry Development Co., Ltd., since the establishment of the company, has never paid arrears to employees, no debts owed to the bank, no late payment of the state's penny tax, established Good social reputation and image.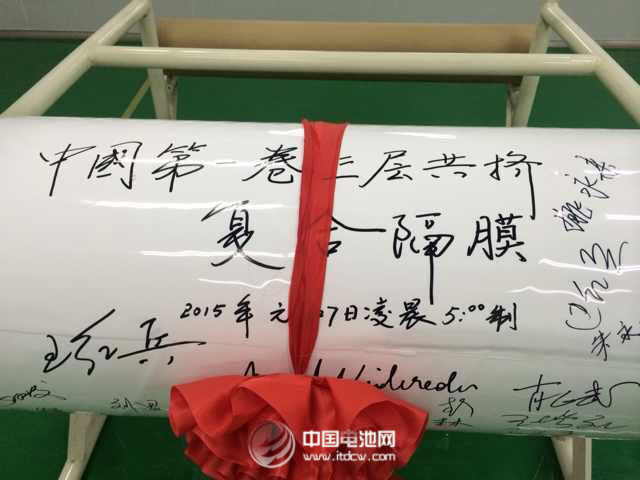 China's first volume of three-layer co-extrusion dry single-pulse lithium-ion battery separator
In the lithium battery business, "When debugging the film equipment, I stayed in the workshop with the experts for 37 days and nights. Every day, it was only two o'clock in the morning to rest." Wang Hongbing revealed that there is no disadvantage in the introduction of complete technology or equipment. Under the conditions, Wang Hongbing led the team after more than four years of hard work, after completing the equipment design, manufacturing, installation, process debugging, personnel training, entered the trial production on December 20, 2014, and continued to fight after 37 days of staying up late. At 5 o'clock on the morning of January 27, 2015, China's first three-layer co-extrusion dry single-pulse lithium-ion battery separator was born in Wuhan Huiqiang New Energy Material Technology Co., Ltd., and smoothly implemented mass production.
In order to hone his willpower, Wang Hongbing insisted on taking a cold shower every day for the past 15 years. "This is a test of people. If there is no perseverance, it will be abandoned halfway." Wang Hongbing said that with such perseverance, he has the confidence to lead the enterprise. Taking "doing the best film in the world" as its mission, it takes two to three years to make Huiqiang film the first brand in the same industry in China, and achieve the goal of two "Huiqiang" brands in the two industries.